Fed's Harker does not see need for more stimulus right now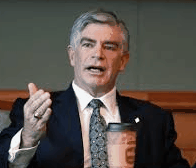 At least a second top US central bank official argued in favour of staying put on interest rates on Thursday.
In remarks to CNBC, Philadelphia Fed boss, Patrick Harker, said that interest rates were approximately at their neutral level and that it would be best to keep them there "for a while and see how things play out".
His comments came just a few hours after his peer at the Kansas City Fed, Esther George, had confirmed that she remained against policy easing at the current juncture.
But unlike George, at the 30-31 July Federal Open Market Committee meeting, Powell had offered "tepid support" of a 25 basis point cut to the target range for the Fed funds rate.
Harker did not hold a vote on the FOMC in 2019.
They were both speaking ahead of the start of the Federal Reserve's central banking symposium at Jackson Hole, Wyoming, and a speech from the the central bank's chairman, Jerome Powell, scheduled for the following day.
Queried as to whether he saw a case for additional stimulus, Harker reportedly replied "No. Not right now."
"The labor markets are strong, inflation is moving up slowly — but with the last CPI print, it was a good print."